Dental Library
It is our great pleasure to provide you with the Dear Doctor - Dentistry & Oral Health Digital Library. Written exclusively by the foremost dental educators and clinicians in the field of dentistry, this library provides you with the latest developments and advancements on all aspects of dentistry to help you make the best decisions for your dental health. Such decisions can change not only your smile but your life for the better. If you have any questions after exploring the library, please feel free to ask our team.
You can get started by either searching for a dental term or procedure in the search box or you can view some popular articles below. Once the articles open, please feel free to print, email and share them with your friends and family.
Featured Articles on Pediatric Dentistry - View all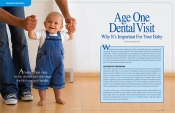 Age One Dental Visit
Early evaluation, prevention, education and treatment — the Age One Visit can cover a lot of ground for your baby's first visit to the dentist. The immediate diagnosis and treatment of emerging dental problems can help build a foundation of good dental health for your child — and your entire family — that will last a lifetime...Read Article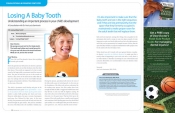 Losing A Baby Tooth
Baby teeth are important; they are guides for the permanent adult teeth to erupt or come into place properly. It's also important to make sure that the baby teeth are lost in the right sequence and if they are lost prematurely, that the space that they formerly occupied is maintained to make proper room for the adult teeth that will replace them.Read Article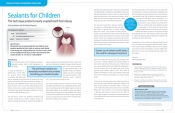 Sealants for Children
Dental sealants are a clear and protective coating that is applied to the biting surfaces of the back teeth. The sealant protects the tooth by shielding it against bacteria and plaque. Sealants are most commonly placed on children's permanent back teeth because they are more prone to cavities.Read Article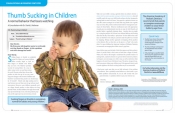 Thumb Sucking in Children
Sucking fingers or thumbs is completely normal for babies and young children. Babies actually begin to suck on their fingers or thumbs even before they are born. Creative strategies, as well as offer positive reinforcement techniques can be used to gently cut back and stop these habits. Read Article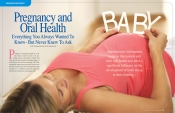 Pregnancy & Oral Health
Pregnancy is generally thought of as the time when a woman strives to be particularly aware of the need for "health." Many women though may not be aware of the link that exists between their oral health and their systemic (general) health, as well as the impact that many other factors can have on a developing child. Learn about how to care for yourself and your baby...Read Article
Expectant Mothers — Dental Facts You Need To Know
The best thing you can do as an expectant mother is to nurture and maintain your own dental and general health. It's best to eat a balanced diet and avoid starchy and sugary snacks between meals. A healthy and balanced diet will provide you with the calcium, phosphorus and other vitamins and minerals needed for your baby's teeth and bones. Read Article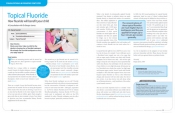 Topical Fluoride
Fluoride has a unique ability to strengthen enamel. Your child's risk for decay will be monitored, as well as diet and dental plaque control. These factors will determine if sealants are recommended for the surfaces that are more prone to decay and that the toothbrush can't reach.Read Article
Featured Article on Oral Hygiene - View all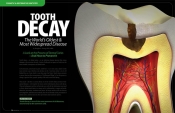 What is Tooth Decay? — And How to Prevent It!
Tooth Decay is an infection, and many people don't realize that it is preventable. This article is the first in a series about tooth decay, perhaps the number one reason children and adults lose teeth during their lifetime. Explore the causes of tooth decay, its prevention and the relationship to bacteria, sugars and acids...Read Article
About Dear Doctor - Dentistry & Oral Health
Dear Doctor magazine is a quarterly publication written exclusively by dental health care professionals for the education and well-being of you, the general public. Written in uncomplicated language, Dear Doctor provides information that is accurate, authoritative, and trustworthy on all aspects of dentistry.
Copyright © 2009 Dear Doctor, Inc. All rights reserved. Copying or reproducing any text or graphics is strictly prohibited.
Homeopathic Trends
This guide goes through some of the homeopathic trends in dentistry. It explains the things to be aware of when dealing with common oral healthcare materials with your dentist.